Not to be confused with the similar berry bush and mushroom bush.
Bushes are light-green areas that help to conceal animals who travel underneath them. Any animal can hide in bushes, including Dragons. They Spawn In the Land and Arctic biomes. They are transparent so you can slightly see the animal if it is hiding in the Bush. They spawn blackberries and pears.
The bush has an unreleased design, that doesn't look transparent and looks, very, very spiky, similar to MooMoo.io's tree.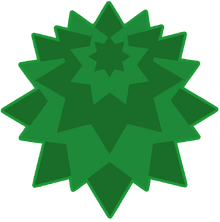 Ad blocker interference detected!
Wikia is a free-to-use site that makes money from advertising. We have a modified experience for viewers using ad blockers

Wikia is not accessible if you've made further modifications. Remove the custom ad blocker rule(s) and the page will load as expected.