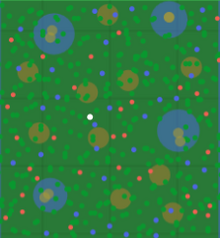 Land is one of the three biomes currently in mope.io. It is placed in the middle of the map between the two oceans and underneath the Arctic. And was also the first biome to be in the game. As of the March 24th update, it has 2 Rivers running through it.
The land biome consists of these various terrain features:
Food Chain
Ad blocker interference detected!
Wikia is a free-to-use site that makes money from advertising. We have a modified experience for viewers using ad blockers

Wikia is not accessible if you've made further modifications. Remove the custom ad blocker rule(s) and the page will load as expected.