The Leaderboard (displayed in-game as Top Players) is a feature of mope.io that can be found in the top-left corner of the screen while in-game. It lists the 10 players with the highest XP, and includes an 11th position for yourself if you are not included in the top 10 list. Your name is highlighted in yellow (As seen on the picture on the right).
In the Sandbox gamemode, the leaderboard players are arranged in kills, not XP.
Trivia
Leaderboards were added the very day mope.io was released.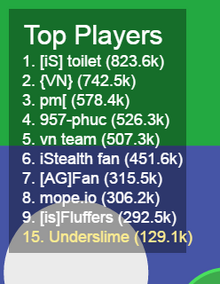 Ad blocker interference detected!
Wikia is a free-to-use site that makes money from advertising. We have a modified experience for viewers using ad blockers

Wikia is not accessible if you've made further modifications. Remove the custom ad blocker rule(s) and the page will load as expected.