Outlines are features in mope.io. Your animal has a dark green outline, while animals that you can eat have a light green outline. Animals that can eat you have a red outline, and sometimes with a glowing green tail, meaning you can tail-bite them. You can eat animals with a light green outline. An Animal with a dark green/blue/gray outline can't eat you but you can't eat them.

.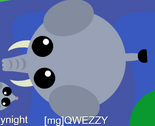 Trivia
On March 14, dark green outlines in Ocean were changed to blue and dark green outlines in the Arctic were changed to gray. Land animals have a Dark Green Outline.
Outlines used to be in the older logo of Mope.io as if Pike's old logo used to have a red outline for the dragon and a light green outline for the mouse, but that was fixed in the final logo, since Dragons can't eat mice!
Food also have outlines to tell if it's edible or not, but food never has a red outline. (Food can't eat animals, that would just be weird!)
Ad blocker interference detected!
Wikia is a free-to-use site that makes money from advertising. We have a modified experience for viewers using ad blockers

Wikia is not accessible if you've made further modifications. Remove the custom ad blocker rule(s) and the page will load as expected.