Looking for the effect? Well, see this: Poison (effect)
| | | |
| --- | --- | --- |
| | | Oh no! This article is about a scrapped idea that didn't make it into the final update! Please do not delete this page, or the Cobra will poison you. |
Poison is a scrapped mini-biome. It has 3 confirmed animals at tier 12-13-14 which are: Boa Constrictor, Black Cobra, and Giant Spider. There is a chance for more animals to come in the future. It will be in the center with the Volcano and Lava, It is more dangerous and painful than the Volcano, the so far confirmed Poison biome animals may or may not be hurt outside of the biome.
Pike has confirmed that Poison is not exactly the same thing as Swamp, which is why it was never called swamp in the first place.
Food chain:
Trivia
In the November 2nd update, a poison like animal was released, but with a different effect.
In the December 25, 2017 update, another poison like animal was released
VIDEOS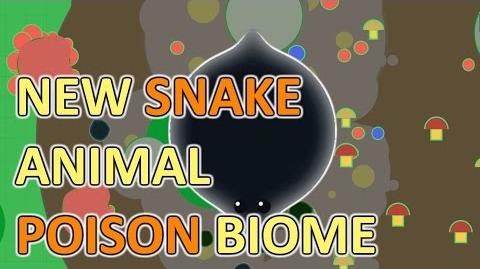 Ad blocker interference detected!
Wikia is a free-to-use site that makes money from advertising. We have a modified experience for viewers using ad blockers

Wikia is not accessible if you've made further modifications. Remove the custom ad blocker rule(s) and the page will load as expected.