| | | |
| --- | --- | --- |
| | | This page needs a Gallery! Please add images to an existing gallery/create a gallery, or you will be eaten by a Polar Bear! |
Trivia
It was released on March 24th.
Only 4 animals aren't affected by the river current
Many red mushrooms spawn in the rivers.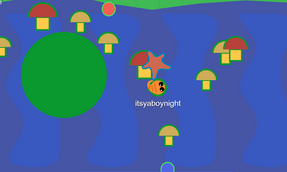 Rivers
are a pair of narrow regions found on the upper-middle and the lower-middle side of the map. There are 2 rivers connecting the
oceans
. Each
river
has a current that pushes most
animals
and
food
in the directions of the current. Some
animals
, like
Crocodile,
Hippo,
and
Dragon
aren't affected by the current. The 2 rivers have opposite currents; one goes from left to right, and the other right to left. You will evolve easily if you make a circle around the
rivers
,
animals that climb
hills
and
rocks
have a advantage
.
They don't have sandy beaches, rather they have sharp sides. Food tends to spawn more in rivers, especially
starfish
. Also, food from both the land and ocean biomes can be found in the
river
. There's no point in going backwards, as it conflicts with the
river's
current.
Ad blocker interference detected!
Wikia is a free-to-use site that makes money from advertising. We have a modified experience for viewers using ad blockers

Wikia is not accessible if you've made further modifications. Remove the custom ad blocker rule(s) and the page will load as expected.